CSD Summer Session
Summer is a great time to explore dance and hone your skills. We offer a great mixture of Camps, Intensives and Classes at every level so that anyone who wants to dance their summer away can.

Our 2019 Summer Season Is Now Open for Enrollment – Space is Limited so Sign up Early!
2019 Summer Camp Registration Form
Classes
We run a six-week session of classes in all styles and levels/ages. 1-Hour Classes are held Monday-Thursday from 3pm-8pm and on Saturday mornings from 9:30am-1:30pm. If you're new to dance, it's a great time to try out that hip-hop or contemporary class you've been thinking about. You can drop in on a class by class basis or sign up for part or all of the session.
Camps
We run weekly camps throughout the summer which are a great way to fill your day with dance and really hone your skills. We offer 4 different types of full-day (6 Hour) Camps. All-Dance Intensives, Musical Theatre, Princess (Young Ballet), and our Single Discipline Intensives. This year we are featuring a Full-Week, 30-Hour Ballet Intensive.

All-Dance Intensives
Our all-dance intensives are all-day, full-week programs (Monday-Friday). Each 6-hour camp day focuses on various styles of dance (ballet, jazz, hip-hop, contemporary, acro, etc). Each day the students work with different instructors on technique and strength and learn various combinations. At the end of the week, an in studio showcase is held to show off what they've learned that week. If you are interested in being in one of our performing companies we highly recommend taking this camp to help prepare you for the audition!

Musical Theatre
Like the All-Dance Intensive, this program is a Full-Day/Full week Camp. During the camp, students study singing, acting, dancing and set-design from a Broadway musical. This camp is very demanding as the students learn an adapted single-act revue of the musical during the week and perform it in the in-studio performance at the end of the week. Because of the amount of material that must be learned during the week, enrollment is limited only to Full-Week (no drop-in/per day enrollment)

Single-Discipline Intensives
For students looking for additional focus in Ballet we offer a Full-Week Ballet Intensive. Curriculum includes both Classical and Contemporary Ballet technique with our In-House and Featured Guest Instructors.

Princess Camp (Young Ballet)
A great camp for younger dancers to get additional dance time. This 3-hour per day camp incorporates ballet, creative movement and crafting into a fun theme for the week.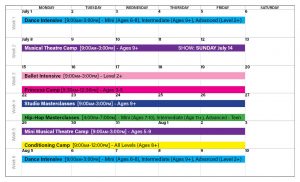 Summer 2019 Schedule