2021-22 In-Studio Schedule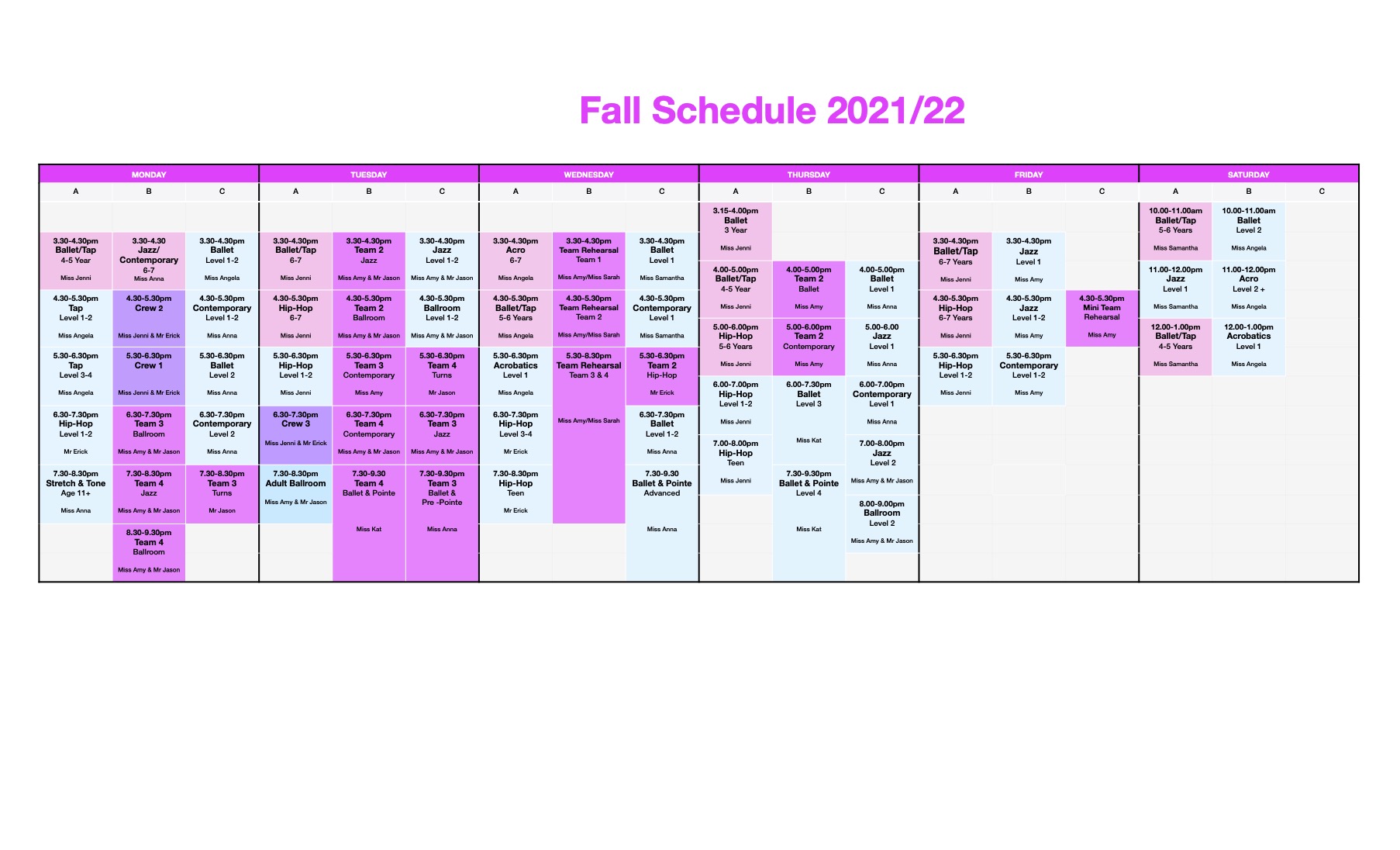 Registration Opens Thursday, July 15th
classes begin Monday, August 16th
*Age Classes for Students 3 years – 7 years old are in Light Pink
*Level Classes for Students 8 Years and Older are in Light Blue
*Team and Crew (Audition Required) are in Dark Pink and Purple
Summer 2021 Indoor Classes
June 29th – August 7th
$112.50 for the Session
Beginning Tap and Level 1 Classes are Age 8+
Beginning Tap and Level 1 Classes are Age 8+
Dress Code
We understand it may be colder at times under the tent than in the studio and have adjusted the dress code for classes accordingly.
Ballet
Base Attire: Leotard, tights, hair in a bun, ballet shoes.
Additional Attire: Sweatpants/legwarmers and long sleeves shirts over the appropriate attire. (No Baggy Sweatshirts)[Level 2+: Please bring Socks to wear over your ballet shoes].
Jazz/Contemporary/Tap
Base Attire: Leggings, Jazz Tops. Jazz/Tap Shoes. Socks for Contemporary. Hair Tied Back.
Additional Attire: Layers (Short sleeve Ts with Long Sleeves over, form fitting sweatshirts).
Hip-HopSweatpants. Short or Long Sleeve Ts.Sweatshirts are OK. Clean Indoor Sneakers.(No Outdoor/dirty footwear will be allowed on the Dance floor)
Zoom Classes
Please wear the correct Attire for each Discipline and your hair properly tied up. We're still in class together and it's important that we sign in to each class ready.
Tuition & Fees
| | |
| --- | --- |
| 1.0 Hr/Wk | $ 75.00 |
| 1.5 Hrs/Wk | $ 112.50 |
| 2.0 Hrs/Wk | $ 150.00 |
| 2.5 Hrs/Wk | $ 180.00 |
| 3.0 Hrs/Wk | $ 216.00 |
| 3.5 Hrs/Wk | $ 241.50 |
| 4.0 Hrs/Wk | $ 276.00 |
| 4.5 Hrs/Wk | $ 297.00 |
| 5.0 Hrs/Wk | $ 330.00 |
| 6.0 Hrs/Wk | $ 378.00 |
| 9.0+ Hrs/Wk | $ 525.00 |
| 2 Sibling (14+ Hours) | $ 625.00 |
| 3 Sibling (18+ Hours) | $ 725.00 |